Join us in the lushness of Tuscany, Italy as we delight in delicious meals, exquisite accommodation and an international gathering of open-minded, loving companions for a 3-day Tantra retreat beginning and ending with 2 days of pure relaxation in the sunshine (July 2-9)
TRANSCENDENCE TANTRA WORKSHOP:
(Monday July 4th through Wednesday July 6th)
Step into the next level of our sexual evolution, deeply aligning your life force energy for more pleasure, rejuvenation and self-transformation. This 3-day workshop provides a safe and solid foundation suitable for beginners and experienced practitioners to enjoy and explore powerful tools from the fields of sacred sexuality, tantra and shamanism.
Topics Include:
Tantric Energetics, Emotional Body Vibrancy; Conscious Touch; Healthy Boundaries; Sacred Sexual Pathways; New Paradigm Relationships, Inner Marriage of Masculine & Feminine Polarities; Communication for Intimacy; Healing Core Wounding; Working with the Shadow; Holotropic Breathwork; Rhythms of the Heart Dance
Facilitated by:
Araminta Barbour (UK)
Founder of The Sanctuary in Guatemala, Araminta is an International Schools of Temple Arts (ISTA) faculty member and a teacher with the Institute of Conscious Sensuality in Hawaii, a Certified Red Tent Women's Guide, Dakini and International Sacred Sexuality Workshop Facilitator. She has a Master's Degree in Indian Religions from the University of London (SOAS), 5+ years experience in the sexual reproductive health non-profit sector and over 15 years exploring numerous holistic health modalities and esoteric traditions.
Araminta's core passion is the process of radical self-acceptance – the inner marriage of love with power. Araminta offers emotional release guidance, transformational workshops in tantra and conscious intimacy coaching.
&
ARI BONAR
Creator of Rhythms of the Heart, Ari Bonar utilises rich and versatile music in his dance workshops to awaken and touch the body, emotion and spirit. Influenced by 5Rhythms, Aikido, Wilhelm Reich Bio-Energy and Buddhist teachings, Rhythms of the Heart is a guided dance aimed at natural, free and effortless movement to loosen up stagnate energy and flow into deeper heart connection with ourselves and each other.
Based in Israel, Ari has facilitated popular weekly and monthly dance workshops and parties for the past 5 years. Photos and videos are available through the Facebook page:
https://www.facebook.com/aribonari.heart
ACCOMMODATION:
We will stay at nearby Borgo Gallinaio (just 300 meters walking from our retreat space at Ebbio). Breakfasts will be served at here and lunch and dinner at Ebbio.
Borgo Gallinaio, a medieval hamlet which dates back to the XVth C, is situated in the countryside around Monteriggioni in the heart of the Siena district, not far from important historical and artistic centres such as Florence, Siena, Pisa and Arezzo. This lovely property sits in its own 40 acres of private land providing a typical Tuscan setting of oak trees, cyprus trees and olive groves.
This lovely stone-built property was built around a large courtyard which in summer provides an ideal place for guests to have breakfast or in the evening to savour the local wines and typical products of the area.
There are also 2 terraces, 2 large drawing rooms, wine bar with dining area, fitness centre, conference room, swimming pool, park and parking place.
TANTRA WORKSHOP VENUE: THE EBBIO
After ten years of hosting unique retreats, Ebbio has become the perfect location to host our 3-day workshop with all we need to journey together.   
Cuisine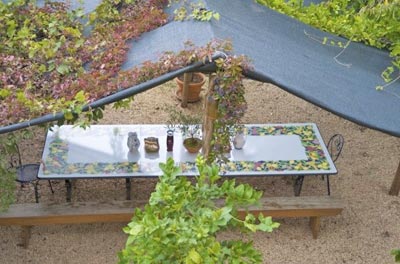 Picture family-style Italian cooking that will tantalise you. Meals will always contain daily fresh pickings from the
organic garden. You will indulge in the perfect pairing of Chianti Wine and Extra Virgin Olive Oil from fruits grown on the property.
HOLIDAY:
From hiking the extensive and well maintained trail system to horseback riding through wooded forests, mountain biking or simply walk and breathe in the gorgeous Tuscan countryside.
Exploring Surrounding Area
Monteriggioni (5 minutes drive)
Siena (15 minutes drive)
Chianti Hills/Wine Tasting (30 minutes drive)
San Gimignano (45 minutes drive)
Volterra (One hour drive)
Calle Val D'elsa (15 Minutes drive)
BOOKING:
€1950 for Singles  & €2500 for Couples
Includes:
*7 nights private accommodation & breakfast at Borgo Gallinaio
*Lunch & Dinner at Ebbio during 3 day Tantra Retreat (wine included)
*TRANSCENDENCE 3-DAY Tantra Workshop
Dependent on Room Availability it may be possible to attend just the Tantra Retreat. Please contact us for more information,
Doesn't include:
*Transportation to the Venue
*Tips, Insurance, Tourist Tax €1 per person for first 3 nights payable in cash.
FOR ALL ENQUIRIES AND RESERVATIONS:
Email: info@madameo.com
To secure your place click below: